Few things make you feel more confident than a fresh and perfect smile.
While most get by with a manual toothbrush, an electric toothbrush can take your dental care to another level. That fresh from the dentist's office feeling can be achieved at home, but choosing the right brush can be tricky. With the arrival of Bluetooth enabled electric toothbrushes, there are more choices in the marketplace than ever before. Hopefully my review of the top five options will help you find the best electric toothbrush in NZ for you.
TLDR - Too Long Didn't Read

Whilst you could spend 500 dollars and get a toothbrush with all the bells and whistles, the Oral-B Vitality Power Toothbrush does just as good a job for $39. With a

two minute timer

your teeth are guaranteed to be clean every single brush.
Philips HX9954 9700 DiamondClean Smart Sonicare Rechargeable Electric Toothbrush
Sleek design, unique charging features, and advanced sonic cleaning make the Philips DiamondClean Sonicare the best new electric toothbrush available. This top-of-the-line brush has five cleaning modes with three intensities.
Modes include:
Clean, for a thorough, everyday clean
White+, Excels at removing stains
Deep Clean+, for a meticulous clean that invigorates
Gum Health, for more focus on the molars
Tongue Care Plus, which helps eliminate bad breath
The intensities are High, Medium, and Low.
This one has a strong vibration that is difficult to ignore, you'll definitely know when it is time to move on to another area. And charging it couldn't be any simpler. The charging station is a glass on a base. Once the brush or the app alerts you that it is time to recharge, you just drop the unit into the glass. That's it! It will be charged by your next brushing. With normal use, the charge will last for two weeks.
It comes with one handle, two brush heads and a TongueCare+ tongue brush. The unique glass charge and a USB travel charging case are also included. There is a two year limited warranty. It is compatible with both Android and iOS phones. The Philips Sonicare app has 3.6 out of 5 rating on the Google Play Store and a 4.7 out of 5 on Apple's App Store. You can of course use this brush without the app, but the smart features are a large part of this brush's appeal and it would be difficult for most people to justify the price point without them.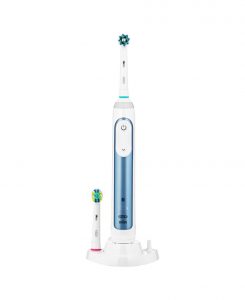 This smart toothbrush will be a natural fit for lovers of technology with its bluetooth capability. It can connect to the user's smart phone and Oral B's app to monitor brushing habits and provide real time feedback. Since we've been brushing our teeth all our lives, it's easy to brush mindlessly, without much attention to proper technique. This brush and its app coach you to improve any poor brushing habits that have developed. You can also set up reminders in the app and review your brushing habits over time. Oral-B's app has 2.4 out of 5 rating on the Google Play Store and 4.7 out of 5 on Apple's App Store.
The Oral-B Smart 7000 has five modes:
Daily Clean
Massage
Gum Care
Whitening
Sensitive
If you prefer to use the toothbrush without the app on your phone, this brush works perfectly well that way, too. The display screen provides all the brushing information you may need, like which quadrant you are currently working on and what cleaning mode you are in. The timer in the handle will pulse every 30 seconds to alert you to switch quadrants of your mouth. If you are brushing with too much pressure, a red light will come on the brush handle, making this the best electric toothbrush with pressure sensor. You can disable the Bluetooth function by following the instructions in the manual that comes with the unit.
Included with the Oral B Smart 7000 is one rechargeable handle, two brush heads, a charging station and a travel case. There is a two year warranty.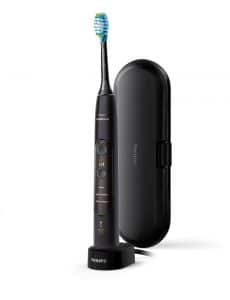 With built-in smart sensors and an App Progress Reports, the ExpertClean with provide you with the guidance you need to improve your brushing routine. It monitors your brushing pressure and will let you know if you are pressing too hard with a pulsing sound. The BrushSync feature can select the correct brushing mode for you automatically. And the brush will also alert you when it is time to replace the brushing heads.
The Sonicare app provides a personalized Progress Report that tracks brushing frequency, time spent, brush head usage, and pressure applied as you brush. This brush differs from the first two brushes reviewed in that, although it does work with the Sonicare app, it doesn't have the ability to track where in your mouth you've brushed.
Charging is a breeze, simply place the unit onto the charging base. Operation is quiet, and it comes with a travel charging case to charge by micro USB cable. Brushing in the shower isn't a problem with this brush, as it is waterproof. There are three brushing intensities and three brushing modes. When the battery is getting low, the indicator light on the handle will light up. Philips states that the battery will go up to two weeks on a charge.
This product includes:
one ExpertClean handle
one C3 Premium Plaque Control brush head
one travel case
one charger
The Philips ExpertClean uses the same app as the DiamondClean, with a 3.6 out of 5 rating on the Google Play Store and a 4.7 out of 5 on Apple's App Store.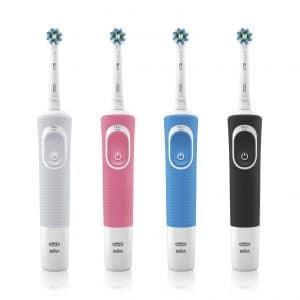 Another contender from OralB's vast line of dental care products, the Vitality Pro100 is compatible with all Oral-B electric toothbrush heads. It has a two minute timer but has no alerts at each 30 second interval to remind you to switch areas of the mouth. The battery can last up to 8 days on a charge, assuming it is used for 2 minutes twice a day.
I'm not sure why this is marketed as a "Gum Care" toothbrush. Oral-B states that the accompanying brush head has ultra thin bristle tips, which is supposedly easier on gums. However, it didn't feel any gentler on gums, and it has no pressure sensor to detect overly harsh brushing, which is the real culprit in the destruction of gum tissue. Furthermore, if you replace the brush head that came with the unit with a new Oral-B brush head, which you will have to do eventually, and the new one isn't a gum care brush, is it no longer a Gum Care Toothbrush? I suppose so. The Gum Care label appears to be a marketing tactic for a gum care brush head packaged with the standard Oral-B handle. I wouldn't consider this the best electric toothbrush for receding gums.
The Oral-B Pro100 comes with:
Oral-B electric toothbrush handle
Oral-B Gum Care brush head
Charging station
Travel case
Overall, this is a basic, no-frills electric toothbrush, good for someone who doesn't need an app and feels confident in their brushing technique or for a regular manual toothbrush user who would like a simple introduction to an electric model. It can be found at any electric toothbrush sale.
This basic model electric tooth brush has a built-in two minute timer. The included brush heads are Oral-B's "Floss Action" variety, designed to surround each tooth, using MicroPulse bristles to reach in between teeth and clean the sides of each tooth. Like the Gum Care toothbrush, it is a basic handle packaged with the brush that gives the unit its name, only unlike the Gum Care toothbrush you get two brush heads. It is compatible with all of the Oral B electric toothbrush heads. Package includes brush handle, two floss action brush heads, and brush charger.
This rechargeable electric toothbrush oscillates and rotates, giving a better cleaning than is achievable with a manual brush. One caveat: some users report that a charge lasts less than a week. It is waterproof and can be used in the shower but shouldn't be submerged in water. It has the best price for Oral B electric toothbrush.
The Oral-B Vitality Power Toothbrush Floss Action includes:
1 Oral B electric toothbrush handle
2 Oral B Floss Action brush heads
Travel case
Charging station
On the whole, this is a bare bones tool that is extremely affordable and simple to use. It may be best priced, oral b, electric toothbrush for older adults who are stressed by technology or overly complicated features.
FAQ